What is the Infraspinatus?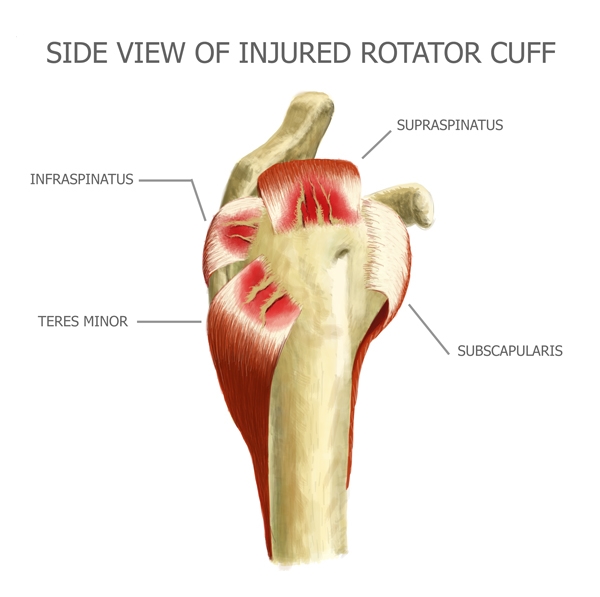 The infraspinatus muscle starts on the back of the scapula under the bony ridge and runs to the top of the humerus. It is triangular in shape, with it becoming more of a point near the humerus insertion. The muscle can become damaged anywhere but is more common closer to the shoulder. This muscle has two important jobs:

External rotation of the upper arm: The infraspinatus muscle helps rotate the upper arm to the outside at the shoulder. One of the most common, everyday tasks that requires the infraspinatus muscle is raising your arm up to brush your hair.
Stabilization of the shoulder joint: The infraspinatus works with the other rotator cuff muscles to stabilize the shoulder joint and keep the head of the humerus from slipping out of its socket during shoulder movement.
The infraspinatus gets some help with its job from some of the other muscles in the shoulder. The teres minor and deltoid muscles assist with lateral rotation of the arm, and the other rotator cuff muscles team up to assist with stabilizing the shoulder joint during various arm movements.
When it is injured it can be painful to pull the arm backwards, reach straight out in front of your body, or grab your seatbelt. Most people are surprised by how much the infraspinatus muscle is involved in their daily activities until they strain the muscle, and feel the pain with use. When the muscle is hurt the pain can radiate from the shoulder blade to the side of the shoulder. The muscle can be tender at the injury site, or radiate down the arm. A dull ache that becomes sharp with movement is common. A bad trigger point will radiate down to the elbow. A trigger point is an area of muscle that has been injured to the degree that it radiates pain to other areas. Mild muscle injuries hurt at the location of the injury only. Worse injuries radiate pain a couple inches. Bigger muscle injuries radiate pain to other areas of the body.