Infraspinatus Tendonitis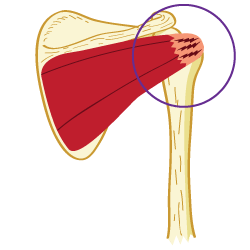 Because it has a poor mechanical advantage, the infraspinatus is a relatively weak muscle in most people. If it is called upon to suddenly perform heavy exertion, it can easily strain or tear. Some people have a minor strain of the infraspinatus tendon that continues almost unnoticed for years. They may experience slight discomfort when reaching for something on a high shelf or into the back seat of the car. However, when this minor lesion does not heal properly, it can set the stage for a more severe injury later.
When a strain of the infraspinatus tendon occurs, the person frequently feels nothing at the moment because the tendon is warmed-up or because the person is focused in the heat of the moment during an athletic activity. Later that day or the next morning, difficulty putting on a shirt or coat may occur, as the arm is lifted up and out to the side.
With infraspinatus tendonitis, pain is felt in the upper-arm region, sometimes slightly toward the back of the arm, but not always. When the injury is severe, pain can travel to the wrist. During the verification tests for this injury, pain will often be felt down the back, front, or outside of the upper arm and occasionaly over the scapula. Severe infraspinatus tendonitis sufferers may complain of pain down the arm as far as the wrist, but this pain pattern occurs only in extreme cases of this injury.
Two to three months of rest will sometimes allow infraspinatus tendonitis to heal, but more often it will remain for years, especially in an active person. Tendon injury exercise, along with rest may improve the condition. Treatment is usually recommended if rest and exercise don't elimate the pain in the course of a month. Hitting backhand in raquet sports is not a good idea while in treatment, nor are any exercises that cause pain such as push-ups and chin-ups.